The Risk Reserve is the new security deposit that stands in for the Rolling Reserve.
The Risk Reserve "RR" is a security deposit linked to the payment risks of your customers (the merchants on your marketplace...). This amount is placed on the "RR" technical wallet opened in your Lemonway environment.

This account is funded when launching your payment flow or at Lemonway's request in the following cases:
The amount of your Reserve Risk has evolved because your risk level has increased.
Lemonway has used a part or a total of your current Risk Reserve to cover the unpaid transactions (chargebacks) related to your customers' payment flow.
To place the funds on your "RR" account, please send the bank transfer to the same bank account you use to top up your SC account. Upon receipt of this transfer, Lemonway performs a P2P from the SC account to the RR account to bring the balance of the RR wallet to the level defined by the contract.
Lemonway can charge the amounts placed on the RR wallet provided the balance of the payment account concerned by the chargeback and the balance of your SC account are not sufficient to cover the unpaid transaction and the partner has some constraints to fund its SC account within the deadline. Otherwise, the Risk Reserve is used to process any chargeback events that may occur on card, SDD or cheque transactions after the termination of the contract between the partner and Lemonway (up to 13 months, depending on the payment method used).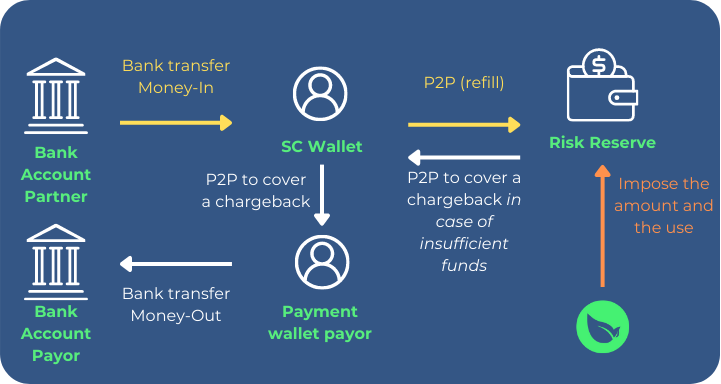 The Risk Reserve is defined in your contract and depends on Lemonway's risk analysis of your business model and activity. It is reviewed on a regular basis and can evolve with the risk increase of your payment activity.